Yihan Chen Pipa soloist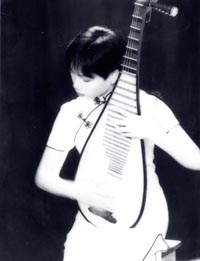 Born in Wenzhou, China, Yihan Chen started learning Pipa when she was eight years old. She was exclusively chosen for the Pipa major by the Middle School Affiliated to China Conservatory of Music in Beijing in 1985. Yihan was admitted to the China Conservatory in 1991. She studied with Pipa master Wu Junsheng, Wang Fandi and Liu Dehai. She also studied Guzheng with Master Qiu Dacheng and Li Wanfen. After graduating from the conservatory with Bachelor's degree in 1995, Yihan served as the Pipa instructor in the Middle School Affiliated to China Conservatory of Music. Yihan was the soloist in Huaxia ensemble in Beijing from 1995-1999. After arriving in USA, she starts working with Music From China in NYC.
Yihan was the prizewinner of the ART Cup Chinese International Music Competition in 1989 and the Freedom international Chinese Music Competition in 1995.
As a pipa soloist Yihan has performed in Asia, North America and Europe, such as Spoleto Festival USA 2012, Lincoln Center Festival. de création musicale de Radio France, Le Festival Avignon, Le Festival Musique en Scène, Encontros Acarte 98 Portugal, La Cité de la Musique, Lotus Festival, Winnipeg Symphony Orchestra's New Music Festival. Yihan has collaborated with such renowned composers such as Chen Yi, Zhou Long, Chen Qigang and Bright Sheng. She has appeared at Carnegie Hall, the Kennedy Center, the Library of Congress and other leading venues. Her most recent performances include The World Stage Series-Yihan Chen, Pipa at the Bethel Woods Center for the Arts, the Chinese contemporary opera, Feng Yi Ting, at Spoleto Festival USA 2012 and Lincoln Center Festival.
Yihan Chen 's recordings include The Brahmin, Three Images Of Laughter (Hugo), Time to Listen (Ellipsis Arts), Zhou Long-Talse From the Cave, and Hua Xia (Delos).
Currently Yihan is living in Connecticut with her family.